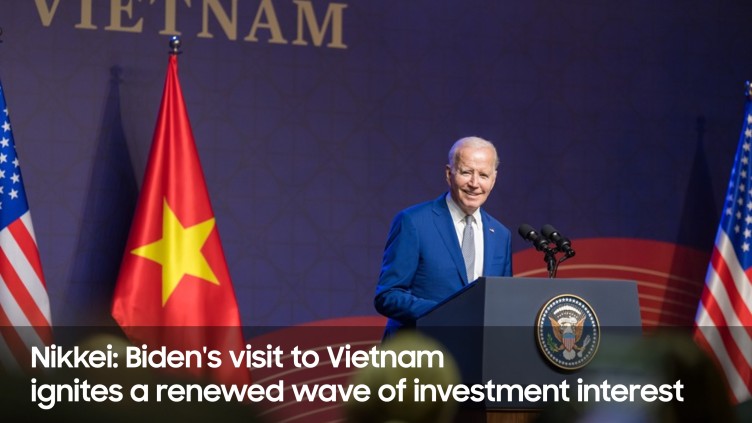 Nikkei: Biden's visit to Vietnam ignites a renewed wave of investment interest
Vietnam might see a new wave of foreign investment after President Joe Biden's visit last month.
Historically, Vietnam has experienced three notable surges in foreign direct investment. The first occurred in 1997 when Honda Motor began producing two-wheeled vehicles in the country. The second wave spanned from the 2000s to 2008, marked by the global financial crisis triggered by the collapse of Lehman Brothers. During this period, Samsung Electronics invested in a smartphone production facility in Bac Ninh in 2009.
The third wave appeared to take hold in the mid-2010s, driven by the country's growing purchasing power, making Vietnam an attractive destination for foreign consumer businesses. For instance, the Japanese retail giant Aeon opened its first store in Vietnam, Aeon Mall Tan Phu Celadon, in 2014.
President Biden's recent visit has the potential to spark a surge in US investment in Vietnam, potentially becoming the catalyst for a fourth wave of foreign direct investment.
Up until now, US foreign direct investment in Vietnam has been relatively modest compared to other Asian nations like Japan and South Korea. As of the end of 2022, the total direct investment from the US in Vietnam amounted to $11.4 billion, ranking 11th among countries and regions investing in this market of over 100 million people. By comparison, South Korea has invested $80.9 billion, Singapore $70.8 billion, and Japan $68.8 billion.
Vietnam currently seeks to transition from traditional labor-intensive industries like textiles, garments, and electronics assembly to high-tech, high-value-added sectors. Collaborating with American technology companies, particularly those with expertise in semiconductors and AI, will be crucial for reshaping the country's industrial landscape.
Prime Minister Pham Minh Chinh recently initiated a project for human resources development with the aim of training 30,000 to 50,000 engineers and 100 experts in digital transformation, chip and semiconductor manufacturing. Vietnam is also exploring new measures and policies to attract multinational corporations. However, it will take some time to determine whether the fourth wave of foreign direct investment in Vietnam will indeed materialize.
In September, during his visit to Vietnam, President Joe Biden and General Secretary Nguyen Phu Trong established a comprehensive strategic partnership between the two countries. Mr. Biden's trip also resulted in significant business agreements. For example, Vietnam Airlines signed a deal to purchase nine Boeing 737 Max aircraft, valued at around $737 billion.
FPT Software announced a strategic partnership with the American startup Landing AI. Synopsys, a leading company in semiconductor design, IP, and software security solutions, also signed a memorandum of cooperation to assist in training the workforce for the Vietnamese semiconductor industry.
Following this, Prime Minister Pham Minh Chinh had a business trip to the US. During his visit to the headquarters of the chip manufacturing giant Nvidia, the Prime Minister proposed that the group establish a factory in Vietnam, considering Vietnam as a potential base in Southeast Asia. He also met with leaders of prominent technology corporations in the US, including Bill Gates and Elon Musk.
Source: Nikkei Asia